Browse the gallery , click on the photos for a glimpse into Edie's life and passion of horseracing.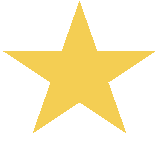 Meet Edie Dickenson, Author, They Call the Horses:                                                              Eleven Race Announcers at American Thoroughbred Tracks

                                                            ABOUT EDIE

Edie Dickenson grew up in Iowa and rode horses every chance she got.  She graduated from the University of Nevada, Reno a year before Secretariat captured the Triple Crown.  She married the love of her life, Eric Dickenson, who managed the largest cattle ranch in the state of Nevada.  Ten weeks after their son Michael Charles was born, he was killed in a plane crash. Edie taught second, third, and sixth grades for almost twenty years, with fifteen years off to raise her son. In 2005, she retired early from teaching.  Her new passion has taken her to over sixteen racetracks around the country.  She lives in northeast Nevada with her two dogs, cat, and two horses.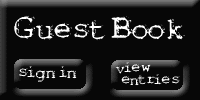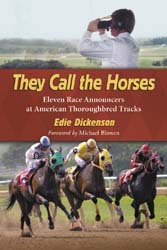 Robert Geller, top track announcer, has this to say about Edie:

    "It was very complimentary to be included in the book since Edie in selecting her version of elite announcers in North America, made a distinction between first-class tracks and first-class announcers. I thoroughly enjoyed her from day one and was immediately struck by her new-found love affair, horseracing. If ever there was a pin-up fan, Edie was it. Fueled by her longstanding admiration for the horse itself, it was as recent as 2003 that she was truly bitten by the racing bug, attending the Breeders' Cup at Santa Anita.

      Rather than coming back down to earth from racing's biggest day, Edie became even more enamored with the industry. In the spring of 2004, she took herself to Churchill Downs and breeding farms in Lexington, including the Kentucky Horse Park, where she was swept off her feet by the legendary John Henry and Cigar. It was on to Del Mar shortly after that. The following spring break she found herself at the Fair Grounds in New Orleans before heading back to the west coast for the 2005 Hollywood Gold Cup.

      A woman of principle, Edie, an established and well-respected school teacher in Elko, Nevada, could no longer stomach the education system's obsession with test scores. Feeling that the art of teaching was being sabotaged, she decided to call it quits. With time now on her hands, Edie put her creative juices to good use by launching head-first into preparing a book about a group of professionals she describes as 'so passionate about what they do,' announcers.

      Now her cross-country treks involved interviewing announcers in their work setting, an ambitious crusade that began with Kurt Becker at Keeneland. Edie began to piece together the jigsaw puzzle known as the racing industry. She relished the opportunity to experience racetracks she had only read about and deeply respected the heartfelt exchanges that each announcer afforded her.

      Her infectious enthusiasm and endearing openness were the very ingredients needed for the mission she had chosen, bringing fresh eyes to what racing insiders had taken for granted. In her interviews with announcers, Edie shot from the hip, unafraid to ask the tougher questions about the industry as a whole, at the same time seeking out the pivot point around which the announcer's world revolved, respectful at all times of personal boundaries.

      My hat, or in Edie's case, visor is off to all those who have tried to capture the essence of true craftsmen since the spoken and written word can only go so far to tap into the genius that is second-nature to them. Announcers really are the channel that brings the magic of live racing to the boil and as a group, we thank you, Edie, for this honor."

Send Edie a Comment                                                                                                                                                                Email Edie